POOL & WATER DESIGN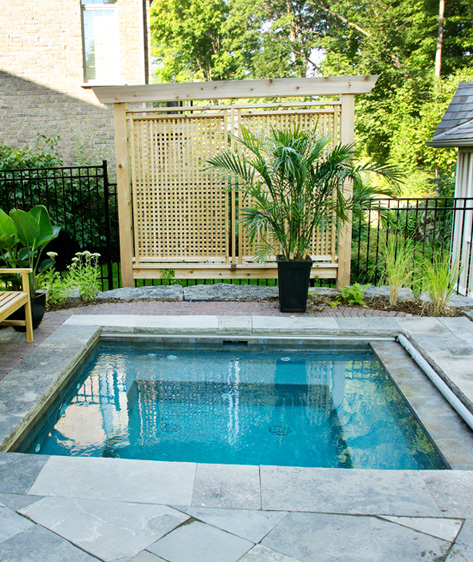 Nothing completes the serenity of a landscape like water.  Whether created through the simplicity of a small natural stone bubbling rock beside a private seating area or a dramatic waterfall visible from any point of the yard, water draws the eye and lets the mind drift.
Water features are a true reflection of the tastes of the client.  Formal stone columns with water weirs make a strong architectural statement, while natural waterfalls blend to the overall natural harmony within a relaxed design.  The integration of water with natural stone has a soothing effect on even the busiest of lives.
Swimming pools and in-ground spas have seen a resurgence in the past several years.  As Canadians begin to realize that our climate allows for outdoor play far earlier in the spring than traditionally realized and later into the fall than ever remembered, the options for a pool continue to improve.
Pools with integrated water features as well as spill over spas are an incredible way to create the visuals of moving water and add dramatic lighting effects.  This can create a grotto effect which allows the pool to become a relaxed entertainment space integrated into the landscape so even when not in use it is a artistic focal point for an entertainment space.
Pool and Water Features can:
provide serenity
adds dramatic or calming features
create formal or natural design features
provide visual screening
provide natural sounds to drown out unwanted noises