BRYDGES LANDSCAPE ARCHITECTURE INC.'S GOAL IS TO CREATE UNIQUE, MAINTAINABLE AND ENVIRONMENTALLY RESPONSIBLE DESIGNS FOR OUR DIVERSE CLIENT BASE.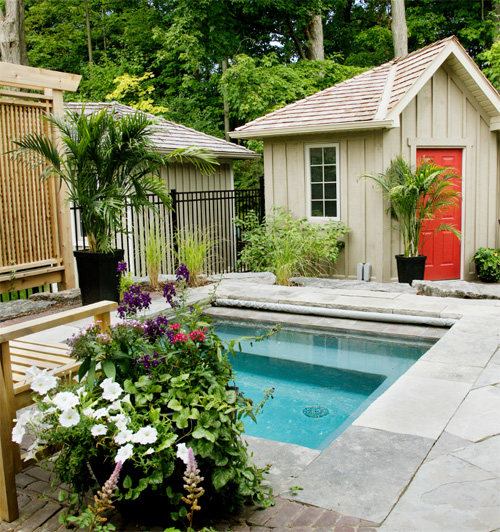 Brydges Landscape Architecture Inc. (BLA) was established in 2004 by Senior Landscape Architect and President of Landscape Ontario (2016-2017), Paul R. Brydges. Paul brings 30+ years of combined design/build and construction experience to the design process. Corporate memberships include the OALA, ASLA, CSLA, APALA and CNLA.
Not only does BLA have the talent in-house with Landscape Architect graduates from The University of Guelph Bachelor of Landscape Architecture, they also work closely with a team of trusted suppliers, contractors, architects and sub-trades to design and construct their unique, award-winning landscapes. "Most of the companies we work with are small, so we can keep an eye on the fine details," says Brydges. "We'd all rather do a few really unique projects than a thousand average jobs."
Hand drawn and rendered plans and perspectives are in integral part of the design process and something that the firm prides itself on. Clients have come to know and appreciate the artful hand drawn designs created by BLA, understanding that they put a lot of science behind the art.
Working with Brydges Landscape Architecture is a unique experience. As purists who prefer to use natural stone and other natural products, their designs blend with nature while integrating various elements into dazzling design features. Because their projects are demanding, they only work with like-minded individuals. "We have to mesh as a team," he said. "We have to be visionaries, and trust what we're doing. A lot of the designs are different, but our colleagues understand what we're trying to create and are willing to work along with us to get there."
After working with their clients through the design process, the team recommends contractors based on the different design elements and geographic location of the client. "We have contractors who don't do certain elements, but excel in others,". "Our colleagues have been working with us from three to fourteen years, and we have more coming on board each year." The contractors are brought in to meet with the client before the job gets started, because it's critical for the client to have absolute trust in the contractor. Clients also want to know that the contractor is looking forward to the project. "Most of the time, the contractors become excited," Brydges said. "They really want to do the job because it's different (and) it showcases them. They want to be creative. This gives them that ability to be creative and do something that not everyone else is doing."
Once the contractor gets started on the project, the design team maintains contact with the client and contractors on site. If there are specialty items that need to be constructed, or if an idea needs to change to suit conditions, they are there.
With a service area that covers all of southern Ontario, cottage country, and as far as Halifax and Peggy's Cove, the team has become specialists in waterfront design. "I started the firm in 2004, and the day I did that is the day I retired to doing what I love everyday." Their dedication and unwavering commitment to unique designs has garnered many awards and successful projects for the firm, along with the many firms they have teamed up with over the years.